Macaronis is visited annually by pro surfers, shapers, photographers, and frothers alike. There is no doubt Macaronis is one of the best waves on the planet. Although perfect Macaronis is what most people come to surf, there are many other waves to choose from including some perfect alternatives for new to intermediate surfers. At Macaronis Resort, surfers of all levels can find exactly what they are looking for in Mentawai surf.
Seasons & Swell
During your stay at Macaronis Resort, you will most likely witness several predominant swells come and go, depending on your trip duration. As the swell rises, Macaronis grows from medium size (fun for everybody), and gradually becomes more intense suiting those surfers with a little more experience.
On large swells, people are more likely to spread out surfing different local breaks, while the more experienced surfers get their share of barrels at Macaronis or Greenbush. Greenbush works best in South swells 180 – 190 degrees, which are generated by low pressure systems hitting the West coast of Australia, with swell refracting in a North direction, more common in early season. Macaronis works in any S-SW swell direction; the wave is more of a barrel on South swells, and with swells @ 200 – 210 degrees it gains its reputation of being akin to a skate park, rippable long workable walls with various barrel sections.
During Southern hemisphere winter months Macaronis has waves almost every day, and during summer months Macaronis remains similarly consistent with less intensity on the peak of the swell. Pasongan Bay has options for all levels of surfers, even for absolute beginners who have never surfed before! Fish Fingers is the perfect wave for learning to surf on our soft top surf boards, breaking just 150m away from the resort entrance.
In summer months when there are not many charters operating we can visit a larger variety of waves including Thunders, which is a swell magnet and works best in small long period swells (ie. 1.2m @ 15 sec and above).
Wave Overview
There are a number waves within close proximity to the resort. Macaronis is a perfect, consistent left hand wave that works on all tides, big and small swells, and most wind conditions. There is a fun right hand beach break ideal for beginners out front and several intermediate reef breaks in the area, as well as a few serious reef breaks that serve up the deepest, longest, hair raising barrels you could imagine.
Macaronis is unique; From 2-3 feet, it is a perfect very fun wave peeling over flat coral reef; good for anybody that is able to get to their feet and go across the face. For the average surfer, Macaronis provides the opportunity to improve your surfing quickly and lift your confidence in the water. At 3-4 feet, Macas becomes more challenging and starts to barrel from the take off, offering more power and lip for doing maneuvers and getting barreled. Over 6 feet, it becomes a dredging tube from take off. When Macas gets to this size, fortunately some of the other waves turn on, offering an alternative for those who prefer to surf something a bit more mellow.
Macas Right is a great option in North winds and with a South swell. Silabu Left is ideal for those who want clean waves on their own. For the beginners; in the bay there is always Fish Fingers, which is a really fun mellow right hander breaking over a shallow sand bottom. Mini Macas is another super fun left hander breaking over coral down the reef from Macas main break.
There is also a bommy peak in the middle of the bay that can be surfed on a stand up paddle board or longboard, which can be fun for those after something a little different on a big swell. View Waves
Peak Season Range
During peak season, while there can be a lot of charter boats around and while tourism regulations are in place at Macaronis, we normally limit our operational range from Greenbush to Bat Cave, to avoid over-crowding the southern breaks and prioritizing surfing more locally. In shoulder and summer months, as there are far fewer charter boats around, this allows us to move around surfing a wider variety of waves.
The "Bat Cave" wave is a fun right hander that breaks around a beautiful isolated island. The area has great fishing and snorkeling opportunities too, so its often great to make a morning or afternoon of it.
Lances Right and Lances Left to the north on South Sipora are approximately 33 miles (1 hour, 30 min) by speedboat in good weather. To access these waves, you need to cross the Sipora Straight which can get rough, especially in West weather conditions. Macas, Greenbush, and a host of other quality waves in the South work in the same conditions as Lances Left and HT's prefers West wind, therefore we do not visit these waves for this reason.
Macas TV – Live Surf Feed to Your Room
The resort has a live camera feed of the surf at Macaronis at all hours. All you have to do is flip on your in-room flat screen to get a closer look at the conditions and line up. The Bar & Restaurant TV usually has Macas TV on during the day as well, so you can have a look while eating and know exactly what the conditions are like at the wave. You might even catch your mate getting barreled as you roll over in bed from an afternoon nap!
Local Tip
Keep a watchful eye on the line up, you may find only a couple of people surfing it to themselves around midday. Also keep a look out for storms passing by, the waves may become choppy and wind affected for 15 – 45 minutes as they hit, but once everybody gets out of the water there will probably only be a couple of surfers left sharing the off-shore conditions that follow.
Due to the ever increasing popularity of photography and videography packages, Macaronis Resort has engaged some of the best freelance surf videographers and photographers. They will capture all your surf sessions and other recreational activities during your stay at the resort. Organise a private surf-photography session, or capture your waves from a birds-eye view by professional drone operator. Your family can have a professional video produced of your entire stay, allowing you to re-live your favourite moments back home with your friends. See pricing below.
Photo and video service pricing is as follows and includes photos and videos:-
4 day package – Rp 2,000,000
7 day package – Rp 3,000,000
10 day package – Rp 4,000,000
14 day package – Rp 5,000,000
Custom video edits can be provided starting from Rp 1,000,000 per guest.
Photo & Video service charges are added to guest bar bills and are paid on checkout with Visa / Mastercard or Indonesian Rupiah.
I can't fault your establishment in any way. The resort facilities, the staff both on and behind the scenes, and accommodation was all top notch. Can't wait to get back in March!! Thanks to everyone at Macaronis Resort for I'm saying my best Indo trip yet!
The wave map above of all the Southern Mentawai Breaks. Surf spots shown include: Bat Cave, Silabu Left, Fish Fingers, Mini Macas, Macas Right, Macaronis, Bung'oles, Greenbush, Roxies, Rag Left, Rags Right, Thunders, and Rednuht.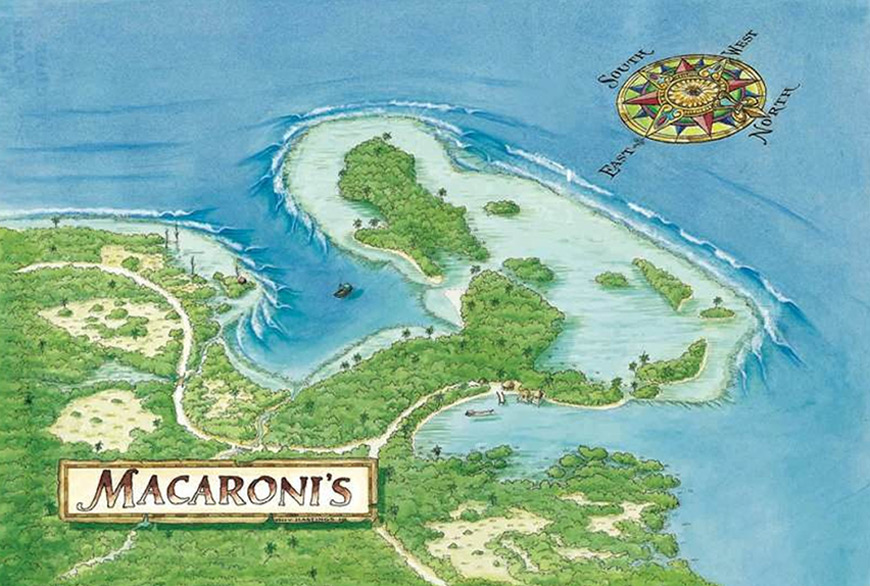 Macaronis Bay by Guy Hastings. Map shows Silabu Left on the right of the picture, Macaronis and Mini Macas on the left of the picture and Macas Right in the middle, on the other side of the bay.