Get the Surf Photo of Your Dreams
Access Other Classic South Mentawai Breaks
Surf with Your mates from Dawn 'til Dusk
Visit Any Time of The Year
Improve Your Surfing - Waves for all levels
Get Barreled - Flawless Perfection
Catch the Wave of Your Life
The Perfect Wave & Resort To:
PLAN YOUR SURF TRIP
Get the Surf Photo of Your Dreams
Access Other Classic South Mentawai Breaks
Surf with Your mates from Dawn 'til Dusk
Visit Any Time of The Year
Improve Your Surfing - Waves for all levels
Get Barreled - Flawless Perfection
Catch the Wave of Your Life
The Perfect Wave & Resort To:
PLAN YOUR SURF TRIP
The Ultimate Mentawai Surf Resort Experience
The Perfect Getaway for Couples, Families and Solo Travellers. All Day Surf Access, Delicious Meals, Ocean View Verandas, Wifi & Live Surf Cam, Solid Transfer Boats, Tons of Recreational Gear + Much More! Your Dream Trip In The Mentawai Islands.
Why Choose Macaronis Resort?
Easy Access aboard Mentawai Fast from Padang & Surfalot from Sikakap

Doctor invited to stay as Special Guest each week of 2022 & 2023 (temporarily suspended in 2021 due to Covid-19)

Surfalot aluminium Cat capable of evacuation to Padang in 4-5 hrs

New fast Wifi installed June 2021, 60 Mbps down and 5 Mbps Up speed

Macaronis is the most Consistent Perfect Wave in the Mentawais

Surf Anytime You Want, from Dawn 'til Dusk!

Surfing for All Levels & Age Groups (seriously!)

No Extra Cost for Surf Transfers, Fishing, Diving or Day Trips

Evening Photography & Video presentations of days footage

A/C, Hot Shower, Ocean views & sea breezes, Live Surf Cam to Room

Cold Buffet & Made-to-Order Hot Breakfast, regular outdoor BBQ's

Healthy & Plentiful Meal options with Special Dietary Options

Free use of SUP's, Kayaks, Snorkels, Fishing & Spear Equipment
A Beautiful Documentary of Macaronis
Check out this video to get to know Macaronis Wave (if in Indo view with Opera browser using VPN, as Vimeo not available in Indo).
Macaronis Surf Resort is like no other on earth…
Imagine, empty white sand beaches extending into the clear turquoise ocean where perfect waves peel around the reef on both sides of the bay… it's the kind of place dreams are made of!
Voted by the pros as the 'funnest' wave to surf on the planet, Macaronis is undoubtedly one of the world's surfing wonders, and most consistent and rippable left-hand reef breaks.
Greenbush and Roxies are other nearby classic breaks within striking distance of the best Mentawai Surf Resort for Surfers and Non-surfers!
Tourism regulations help to manage surfing numbers during peak season while summer months remain quiet with quality uncrowded surf.
Current Specials & Availability
We have just 2 guests booked between Dec 02 – 23rd, with limited 30% off spots on offer, so why not bring a friend and come join us?
Xmas & New Years are prime times to visit with families and friends, with Xmas dinner, fireworks, and uncrowded perfect waves!
Charter boats dry dock in December, so what's magic about this time, is we usually have the entire Southern Mentawais all to ourselves!
Intermediate Surf Coaching Clinics are selling out fast, our last 4 weeks are already fully booked and a handful of spots remain between Jan 13 – Feb 10th.
Limited Early Bird Discounts remain from September 2023, and for a limited time get 30% off the Surfer Package year-round in your 2nd and additional weeks!
For full details about booking a trip in year 2022, 2023, or 2024, view our Packages and Rates
Families & Non- Surfers Love Visiting Macaronis Resort!
They love the:
Breathtaking nature, crystalline waters, and pristine location
Fun activities including snorkeling, kayaking, fishing, stand up paddle boarding, yoga and more!
Delicious meals, large range of beverages and friendly service!
Siniai Spa, with range of relaxing massages & beauty therapies
Nearby islands, jungle, beaches and villages, perfect for exploring!
Savings where kids under 6 travel free and non-surfers visit at half surfer rate
Twin-share guest accommodation is raised up from the ground level with exceptional amenities and incredible 360° views of the lagoon and ocean with sea-breezes enjoyed from a nicely insulated building. Our Family Suites are at ground level on the back of the property in a garden setting, more ideal for children and larger families wanting to stay together.
Catering to the family surf holiday, children under 6 are free and non-surfer & beginner guests visit at half Surfer rate! All-inclusive surf trip packages offer our most popular trip duration of 8 days surfing, or up to 29 days surfing by choosing our Membership Package.
For those who don't surf, there are heaps of fun activities accessible right from the resort doorstep including snorkeling, kayaking, stand up paddling, jungle walks and the opportunity to learn surfing at the most fun and gentle beach break, Fishfingers!
Macaronis Resort is truly a little slice of heaven, come visit!
Best Place Ever!

"This is one of the best surf spot, I have ever surfed. I love it so much, I had the best time here! I love how everybody treats each other like family. I definitely will come back here for the rest of my life. Best place ever! Can't wait to come back !"
It was even better than I could have expected!

"Thanks to all the amazing staff for making an already special place even more amazing. I finally made it here after dreaming of it for so long and it was even better than I could have expected!
World-class waves with world-class people!

"I want to thank Macaronis Staff So Much!! This place is 1 big family truly an amazing experience! Much Love! Will you all again in the near future, this is my home away from home. World-class waves with world-class people! The Mentawai changed my life!"
This is one of the best trips I've been on by far!

"Such a special place. One of the best waves I have ever surfed, so much fun! This resort feels like home; everyone is like family. This is one of the best trips I've been on by far. Can't wait till I can come back."
Resort Highlights
Surf & Waves
Waves from beginner sand bottom peelers to hair raising reef slabs
» Surf Overview
Siniai Spa
Massage and skin treatments on-site by our lovely massage professionals
» Siniai Spa
Activities & Gear
SUP's, spear guns, kayaks, snorkel masks & fins, spear guns, fishing rods and more
» View Activities
Guest Suites
En suite private rooms with terraces, A/C, Wifi and beautiful views
» View Suites
Pristine Location
Surfing paradise in the remote and pristine tropical Southern Mentawai islands
» View Location
Families
From discounts to on-site child minding we are the best family surf resort to visit
» View Family
Bar & Restaurant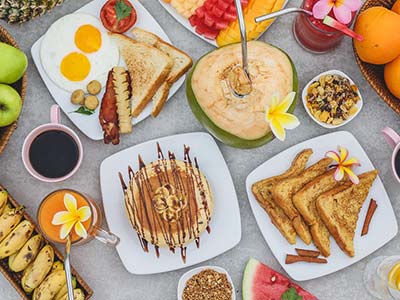 Our chefs prepare delicious & health conscious meals, also catering to special dietary requirements
» View Restaurant
Surfers, Book Early to Save up to 20% Off
Beginners & Non-Surfers, Stay at Half Price & Kids under 6 are Free!
Save Up To 20% Off Trip Packages!
Early Planners Bonus! Book Early, Save More!
The first 5 surfers to book each week get 20% off and the next 5 surfers get 10% off. Book early to secure your discount that can later be passed on to others traveling with you!
Macaronis Mentawai Surf Resort is Open Year Round!
April – October is regarded as the most consistent time for larger waves in the Mentawai Islands and Macaronis. This is when the Indian Ocean is producing storms regularly and the swell is usually more intense from all directions. May – September will likely book out the quickest.
March & November are considered shoulder months, where world-class surf is still regularly scored with fewer people around. March especially offers a great opportunity, as warmer weather and optimal surf conditions keeps most surfers in the Southern hemisphere closer to home.
December – February is the Summer Season, where glassy surf in the 2-4 ft range is common, with low or no crowds and occasional larger swells (also view this article). Dominant South swells at this time are ideal for Macas and Greenbush. You can also book to take part in our annual Surf Coaching Clinics held in January and February, which include surf coaching and photography package.
Want a closer look at conditions throughout the year?  Check out the video archives from every month of the year!
Planning Your Trip
• Resort Check-in is on Fridays & limited Sundays
• Your flight must Arrive to PDG 1 day before Resort Check-in
• Your flight should depart 1 day after Resort Check-out, after 11.00 am
» View the Trip Schedule Calendar
Private Resort Bookings – Exclusive to your group!
Macaronis is popular for special events such as 40th birthdays, conferences, and sometimes even low key weddings! Pay full price for 16 surfers and each additional guest sharing 16 twin share suites and 4 family suites pays only USD 95/night including all meals and use of facilities. Also included is a complimentary 5-10 minute group movie of your trip to take your memories home with you!
Enquire to [email protected]