Below are all of the nearby waves with photos and descriptions. For a general surf overview including information on swell cycles and our peak season range, visit the Surf Overview Page
Macaronis, more commonly referred to as Macas, is a mechanical left-hander that has been described by many as being the most high performance wave in existence. In glassy or off-shore conditions 4 – 6 second barrels are manageable from the take off, while the inside section is a bit like a skaters half-pipe where you can do countless numbers of Rio's, tail-slides, floaters, airs, and cut-backs.
Macas is such a fun wave to surf even in onshore conditions, and is one of the few reef breaks in the world that continues to break well in all tides. Macas holds from 2 – 8 feet and technically doesn't get any bigger than this; it just becomes more hollow and round.
The greatest thing about Macas is its consistency, and that it breaks slightly different at each stage of the tide with varying west – south swell directions. Generally a south west ground swell will cause Macaronis to break most mechanically, lining up all the way down the reef. Macas is surfable all day long in a variety of on-shore and off-shore conditions, in fact some actually prefer Macas to have a slightly on-shore SW breeze on it, as it makes the wave so damn fun and rippable.
In 2003, Waves Magazine conducted a survey poll of 50 of the world's best surfers and industry figureheads in order to rank the world's best waves purely for their enjoyment value. Macas ranked #1 in the world in that survey. In fact, 76% of all surveyed, "goofy and natural footers agreed; Macaronis is the 'funnest' wave they have ever ridden" (Waves magazine, December 2003 edition).
One of the most amazing waves to surf in the southern Mentawai region. Macas may be the most predictable and most fun wave to surf, while Greenbush has become known as one of the most mesmerizing and hair raising. The tube is very open and on the correct swell direction all three sections link up and it is very make-able.
Regular visitors class this wave as a true gem; it works on a solid South swell, big high tides (at least 1m) and East – North West winds. If you would like to score this wave, time your trip on a new or full moon spring tide. This is definitely a tube ride you'll never forget. Not too shallow on the take off, very photogenic, and an excellent wave for those willing to charge.
Usually earlier season, March – June seem to be the best time when winds are lighter and large long period South swells are more common. November through to February also delivers some special sessions, completely uncrowded, as South swells remain common during summer months.
Silabu Left can be surfed on all tides and is ideal for those seeking a mellower option with no crowds. It is an ideal wave for those just starting out surfing reef breaks, or for those who are looking to find their feet and build their confidence level. A great wave for getting surf fit, as you need to do a bit more paddling here. Silabu is more protected from South winds and can remain off-shore in mornings for another hour or so if Southerly winds are expected. Although not that long, it is a fun wave close by, and boat guests never surf here, as it is located on the other side of the headland (we go through the tidal lagoon to get there). If Macas is breaking 3 feet or bigger, Silabu Left should be also breaking around the same size and empty.
The outside section of Macaronis Right is surfed most often, which becomes a quality wave in a thick south swell with northerly winds and a medium to high tide. It is not surfed or photographed often and basically just sits in the background of Macaronis being the main focal point that people come to visit. Macas Right is often at its best when Macaronis is also firing, and therefore it often gets ignored. The inside section is hollow and shallow, located 150m further inside the bay, only surfed on the highest tides.
So if you would like to surf on your own whilst staying at Macaronis Resort or just with a couple of others, be different, and go surf the right on a North wind and south swell, you will be surprised with what you find.
Mini Macas breaks inside of Macaronis and is a perfect little left-hand peak ideal for those looking for something a little less heavy than Macaronis. The wave is best at high tide, and is generally empty. You can get dropped off at Mini Macas on the way out to Macaronis and easily flag down a boat ride in as well. You can even watch the waves up at Macaronis to get a feel for when the sets are about to arrive. Mini Macas is most consistent when Macaronis is pumping.
Another option for those seeking a long, mellow, uncrowded right hand wave is at Bat Cave AKA Bat Caves. This wave breaks for a few hundred meters down the edge of a tiny deserted island, pictured here. This is also a great spot to swim, snorkel and explore.
Bat Cave picks up a lot of swell, especially if it has a westerly direction. The wave occasionally dishes up a little barrel and offers long racy walls, but generally it is a point break with sections; definitely need some paddling fitness when it gets bigger.
The boat trip to Bat Caves is equally appealing for non-surfers to take in the spectacular surroundings, go snorkeling, fishing (fish are plentiful in this region), or have a picnic and relax on the beautiful beach.
Across the channel, high cliffs provide a place for cliff jumping, visiting the caves, and exploring some very remote beaches. A long stretch of beautiful beach extends south from the caves excellent for beach walking and exploring.
Rag's Left is a long barreling wave that turns on during large south-west swells. If you are lucky enough to catch Rags at 8 ft or bigger, don't forget to shoot a photo of the lineup, it is an extraordinary sight, one that you are unlikely to see too often. Rags Left is very dependent on swell direction, tide and wind. When everything falls into place, massive barrels start from an outside boil, eventually mellowing further down the line into a large open face that can be ridden for a further 100m or more. We don't surf here that often as Rags Left works in same conditions as Macaronis, which is a more predictable and user friendly wave.
Rags Right is a non-stop tube from start to finish. At low tide forget it, unless you choose to surf the outside section, which can occasionally offer some alternative on a northerly wind. At high tide though, and on the right swell, Rag's Right can offer perhaps some of the thickest, hollowest tubes in south Mentawai. The wave grinds down a section of reef that is famous for two coral heads situated at the kick out point – always in the back of a surfers mind whilst locked inside the tube and looking to negotiate a safe exit.
Thunders is one of the most consistent breaks in the Mentawai's and is surfable on all tides. Higher tides usually offer racy tube sections over a shallow inside reef shelf breaking close to the island, whilst lower tides offer a forceful shoulder further out the back. In smaller south swells the top section of the reef can turn on offering long hollow barrels.
Generally Thunders is an excellent option in smaller long period swells and can handle crowds due to there being a number of take off spots.
Roxies is a fun right-hander that works best in W – SW swells. It is fairly consistent and very fun wave to surf, and when it gets bigger it also becomes a hollow barrel. Roxies is only 45 minutes to the south of Macaronis Resort, and we frequent this spot on occasions for those chasing after a right-hander. Has been called 'Macas in reverse', due to the wave being a fun and perfectly peeling right.
Rednuht is a solid right-hander that breaks in deep water. The wave is not that long but barrels from take off and dishes up a good bit of adrenalin.
This wave requires the right tides and swell direction to work, but when it's on, it's on. Ask the surf guides for the run down.
Fish Fingers (Learn To Surf Here!)
Beginner Surfer Packages
Beginner surfer packages offer 50% OFF regular surfer rates! PLUS: Free use of learning surf boards and a 1 hour one-on-one surf instruction lesson included. Book Now!
Fish Fingers is the perfect wave for learning to surf. It is located right across the channel from the resort with a soft sandy bottom. It is a perfect small peak that peels mostly right but a little left too. At Fish Fingers you can learn to surf or teach the kids with a selection of soft-top learner boards available for use free of charge (for use at Fish Fingers only). Learning surfers who have built up their confidence can also try out Silabu Left and Mini Macas.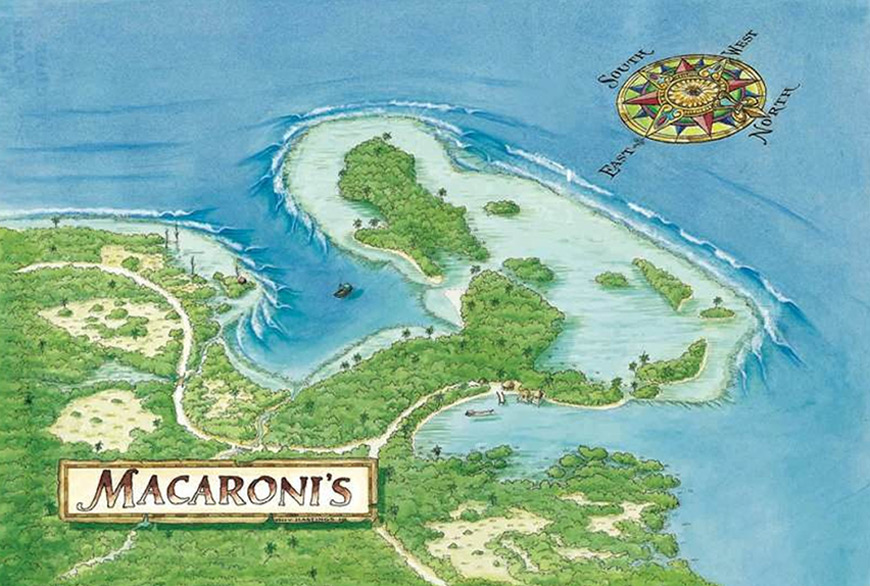 Macaronis Bay by Guy Hastings. This map shows Silabu Left on the right of the picture, Macaronis and Mini Macas on the left of the picture and Macas Right in the middle, on the other side of the bay.